Dramatic aerial footage recorded by Salvamento Maritimo Spain shows the rescue of 22 crew members off the vehicle carrier listing in rough seas in the Cantabrian Sea.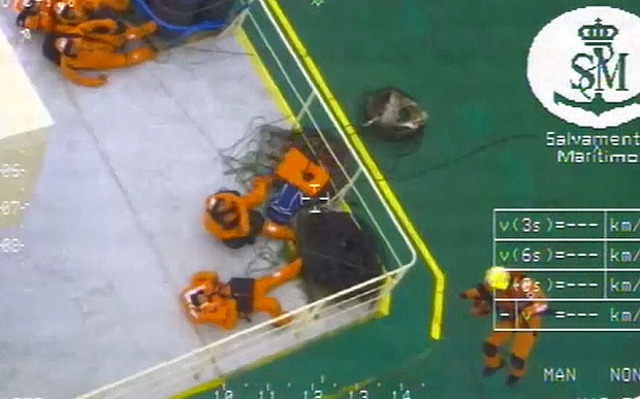 Image: Salvamento Maritimo
The Spanish search and rescue agency Salvamento responded Tuesday afternoon (Jan 26) following a distress call from the roll-on/roll-off car carrier Modern Express located 148 miles off Cape Ortegal.
Sea conditions were described as "treacherous" and after the captain put out an SOS the 22 crew were evacuated from the 163 metre stricken ship by Spanish search and rescue helicopters.
Rescatados los 22 tripulantes del mercante Modern Express a 148 millas al Norte de Cabo Ortegal from Salvamento Marítimo on Vimeo.
Related news: Vehicles Carrier Modern Express disabled with heavy list in Bay of Biscay; Crew evacuated (Video)