The stricken vehicle carrier Modern Express has been successfully towed into port of Bilbao in Spain, following days adrift without crew in the Bay of Biscay.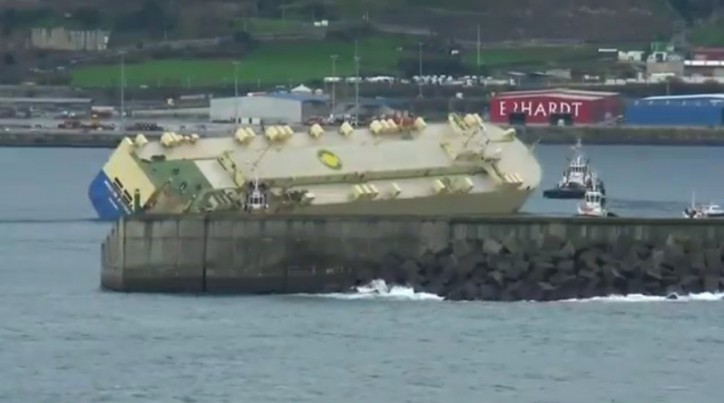 Marine specialists from the salvage company SMIT Salvage after a days-long operation boarded the vessel on Monday, ran a tow line and prevented it from crashing into the French coast.
The car carrier was ten miles off Bilbao on Tuesday night, but Spanish authorities and salvors chose to wait for daylight and improved visibility to bring her in. At the harbor entrance, additional towing vessels joined her for docking, and a team of eight salvors boarded her to handle lines.
A tugboat dragged the listing Panama-registered cargo ship into the Bilbao port on Wednesday (Feb 3).
The Modern Express will now have to be moored and put upright again in the coming days in the biggest ever such operation organised by the port of Bilbao, one of the largest on Spain's Atlantic coast.
The Modern Express was carrying diggers and 3,600 tonnes of timber from Gabon in west Africa to the port of Le Havre in Normandy, France when it ran into difficulties in late January.
Related news: Modern Express under tow; Authorities ashore ready in case of pollution