Japan's NYK Line will consider putting more Capesize ships into cold lay-up if freight rates remain low, its Manager of Capesize Chartering Izuru Ehara told Platts Wednesday (Feb 10).
"Compare the two cases -- you can either continue to transport cargoes or put vessels in lay-up. With the current freight rates, the economics of putting vessels into cold lay-up makes more sense," Ehara said in a telephone interview.
Last month, the company decided to park Frontier Harvest (179,420 deadweight tonnes), Frontier Wave (174,707 dwt) and Frontier Discovery (174,845 dwt) in cold lay-up.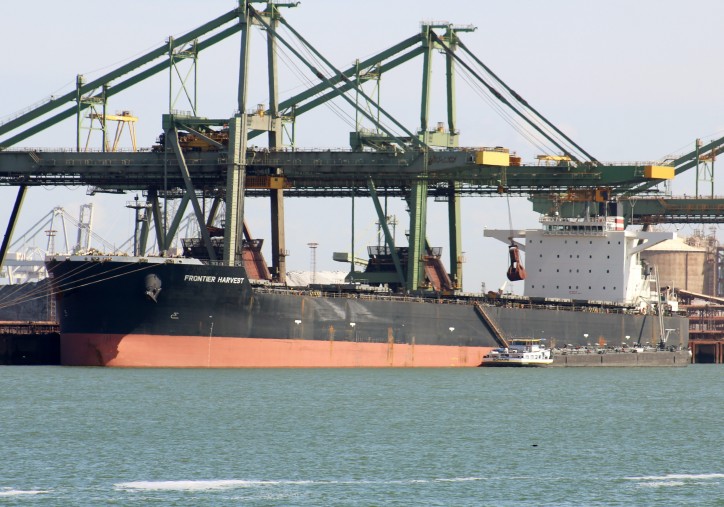 Image: Krijn Hamelink
Both Frontier Harvest and Frontier Wave were built in 2011, while Frontier Discovery was delivered a year earlier. All were made by Japanese shipyards.
"These vessels are Japanese-built, relatively modern, and of a young age. Even with relatively better and economical vessels in our hands, we don't see sense in fixing the current spot business," he said.
For a vessel opening in North China to do a Pacific round voyage, rates have been a shade above $2,000/day. Operating costs of Capesize vessels range between $6,000 and $7,000/day, depending on the ship's specification. Last year 40-50 vessels were in warm or cold lay-up and even then that was not enough to have a significant impact on the market.
"We definitely need to see more vessels laid up compared to what we had last year in order to see some more impact," Ehara said.
As of end the end of January, there were approximately 10 Capesize vessels expected to be put in cold storage by owners, including the three from NYK.
SOME RELUCTANT ON COLD LAY UPS
Many ship owners are hesitating to put their vessels into cold lay-up because they are unfamiliar with it, Ehara said. Several owners are also concerned that lay ups would affect the vessel's performance in the long run.
State-owned companies also have difficulty in convincing their board to turn off the engine and incur costs to put the non-performing asset into quarantine. Moreover, owners did not want to miss any potential rally in the Capesize market.
"The question is how big or how long any spike can continue," he said. For NYK, re-activating the vessel to take a well paying cargo could be premature. "It might be just the one good cargo," he said.
Taking into account the demolition rate, Ehara also said that the age profile of scrapped vessels should fall within the bracket of 15-20 years old this year, below the 20-year average in 2015. Lion Shipbrokers reported that 2001-built John Oldendorff of 169,229 dwt was to be sent to the scrapyard in January.
Moreover, the low earnings of Capesize vessels has seen the Sales and Purchase market deteriorate in tandem, and more modern ships will be put on sale. According to Lion Shipbrokers, 180,378 dwt Jolanda was heard to have been sold at $34.5 million in January 2016.
'TOO MANY VESSELS'
The current Capesize market has taken a beating over the past year, dragged down by the bearish iron ore market, low bunker prices and global oversupply of tonnage.
Platts assessment for a Capesize vessel to move iron ore from west coast Australia's Hedland to North China's Qingdao port retreated to its historical low of $2.85/wet mt Wednesday, down from $4.50/wmt a year earlier and $7.75/wmt in 2014.
"Too many vessels is the biggest reason [for the bearishness] as far as the Capesize market is concerned. Cargoes are moving constantly, and frankly we don't suffer from a lack of cargoes -- and still the freight rates are nonsense," Ehara said.
Through demolition, scrapping and cold and warm lay-ups the balance between cargoes and vessels would become healthier, Ehara said. However, He said he expected 2016 to be a traumatic year for the industry as it rids itself of the non-performing tonnage.
"Nobody is happy -- not us, or our customers -- the steel mills and commodity suppliers," Ehara said.
Source: Platts