A whale-watching ship rammed into San Diego's Embarcadero on Thursday afternoon (Mar 31), injuring passengers, damaging the hull and buckling a portion of the well-traveled brick walkway.
The crew of the Adventure Hornblower reported a mechanical malfunction that caused the throttle to become stuck in the forward position, San Diego Fire-Rescue Battalion Chief David Gerboth said. The crew, coming in to dock along North Harbor Drive, could not stop the boat to prevent the crash.
Seven passengers suffered minor to moderate injuries. Of those, three were sent to hospitals with neck, back or leg injuries, Gerboth said. The others were treated by medics and released.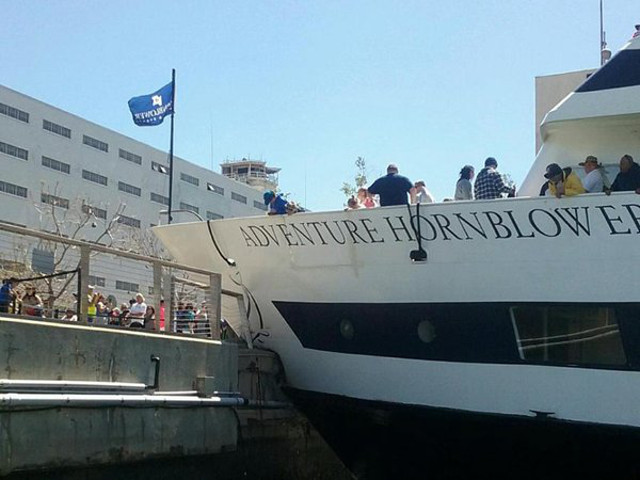 Image: Twitter
There were 144 people aboard the 150-foot ship at the time, although it was not clear whether that included the crew members.
A passenger who was in the stern on the top deck when the boat crashed said:"It felt like we were coming in a little hot...Then the boat hit the dock. The next thing I heard was four blasts of the horn. ... We hit pretty hard."
According to the witness, people waiting in line for the next cruise ran to get out of the way as the bow slammed into the walkway. Tables, chairs and people on the top deck fell down.
Another passengers who were also on the top deck said: "I saw it coming in fast. It hit the dock, bounced off and continued too fast to stop. The woman next to me fell, she was hurt pretty bad...The crew were walking on the deck yelling, 'Brace yourselves or hold on to something.'"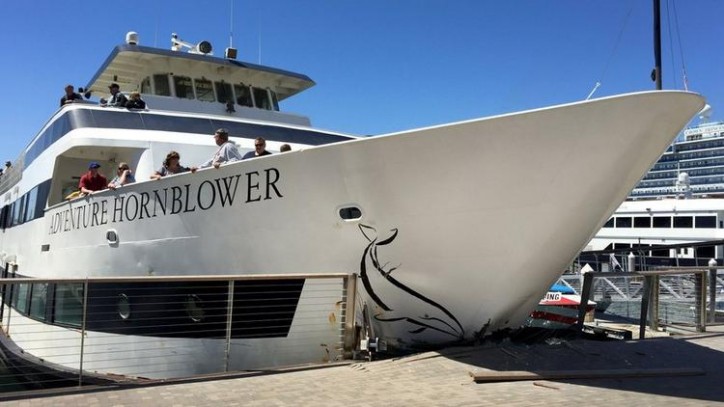 Image: Nelvin C. Cepeda / San Diego Union-Tribune
The passengers said that after the crash, the crew started first aid on the injured, putting ice bags on bruises and bandaging cuts. They opened the snack bar for free food and drinks while passengers waited about two hours to disembark.
Tugboats had to push the ship back from the damaged walkway so passengers could get off.
The U.S. Coast Guard and Harbor police will handle the investigation.
"We're not exactly sure what happened yet," said Jim Unger, general manager of Hornblower Cruises and Events, who stressed that the safety of their passengers was important to the company.
Source: LATimes