A vessel operated by the cash-strapped Hanjin Shipping Co. was released three days after being impounded in South Africa for unpaid charter fees to its unspecified ship owner, the South Korean shipper said Saturday.
The bulker Hanjip Paradip was detained in Richards Bay on the east coast of Africa on May 24 due to the unpaid charter fees, but it resumed operation at 5 p.m. on Friday (local time), Hanjin Shipping said.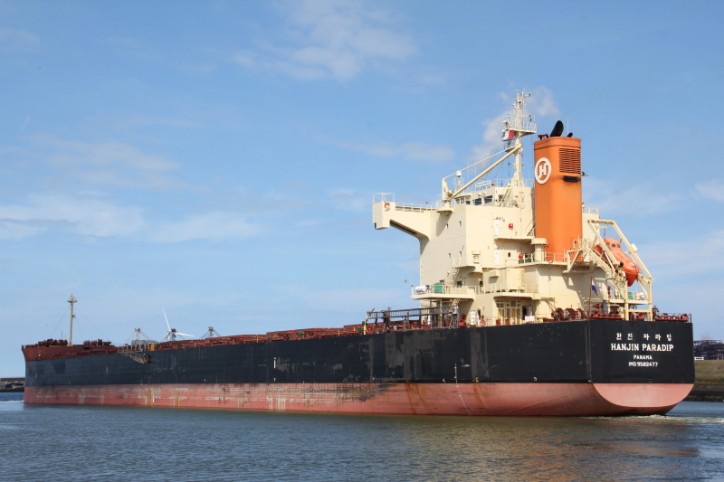 Bulk Carrier Hanjin Paradip - Image courtesy: Willem Oldenburg / shipspotting
The vessel in 82,158 deadweight tonnage (DWT) was used to carry grain and minerals.
"We agreed with the ship owner that the normal vessel operation is the most important for interests of the both parties," Hanjin said, without specifying the owner's name. "We agreed to resume operation first and decide on the charter fees through additional negotiations."
The incident took place while the shipping company has been negotiating with tonnage providers to get rates cut on chartered ships, a crucial first step outlined by bondholders of the financially-troubled company.
Hanjin operates 95 container ships and 56 bulk carriers, 91 of them chartered by foreign owners.
Last week, creditors of Hanjin decided to extend the maturity of debts by four months, clearing one of several hurdles the shipper must cross to get back on the normalization path.
It is one of the Korean shippers that have been suffering from ballooning debts and mounting losses due mainly to a worldwide slump in the industry.
Related News: Hanjin Shipping Vessel Seized in South Africa
Source: Yonhap