Tristar Group CEO Eugene Mayne officially presided over the naming ceremony of the Silver Manoora, the first of six MR tankers to be delivered to Tristar over the course of this year.
The event was attended by the President and CEO of Hyundai Mipo Dockyard, Mr. Hwan-Goo Kang, high ranking officials from Tristar and Agility, and the company's financial advisors, bankers, brokers, lawyers, new building supervisors, classification advisors and fleet technical managers.
"This is indeed a red letter day for Tristar. Today we are proud owners of a brand new ship with five more to follow during the course of this year. Last year, in September I had the pleasure of visiting this shipyard for the steel cutting ceremony which at that time looked like a simple hydraulic cutting of a very normal looking steel plate. Nine months later the steel plate has been transformed into the beautiful Silver Manoora which we see floating before us today," proudly declared Mr. Mayne.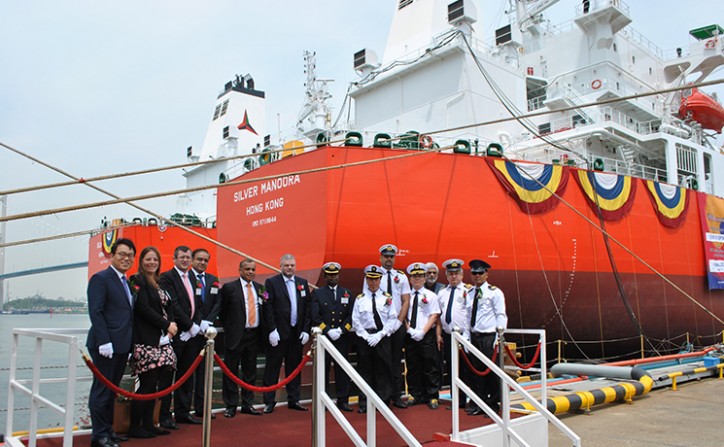 Tristar Group CEO Eugene Mayne (5th left) and Hyundai Mipo Dockyard President and CEO Hwan-Goo Kang (left) pose with the group's senior management, shipping crew and guests in front of Tristar Silver Manoora on May 19 in Ulsan, South Korea.
The new tankers will operate with lower fuel consumption than existing tonnage, making them much more economical to operate. They will be fitted with additional fuel saving equipment such as Propeller Boss Cap Fins, New Profile Technology Propeller and Trim Optimization System.
They will be placed on long term time charter with oil major Shell. "Our business model will continue to be built around the needs of customers and we are confident that if we continue to offer best in class services at competitive pricing there will be immense opportunity to leverage the brand equity that we have built over the years," explained Mr. Mayne.
In 2013 Tristar placed a firm US$200m order for six new tankers with HMD for delivery in 2016 and to be built to the latest specifications with an improved hull form design, making them more fuel efficient and eco-friendly.
Mr. Mayne added: "To the captain, officers and crew who will man the Silver Manoora I have a few words. First of all take care of her. At a build price in excess of USD 30 million she is lady with expensive tastes but one that needs to be handled with tender loving care."
Source: ForbesMiddleEast