Hyundai Merchant Marine Co. and a mid-sized shipping line submitted final bids for Hanjin Shipping Co.'s Asia-U.S. route up for sale with the asset sale by the country's ailing shipper expected to be completed by this year, industry sources said Thursday.
Last month, Hyundai Merchant Marine Co., Korea Line Corp. and three local investors submitted their preliminary bids for Hanjin Shipping's lucrative asset.
The Seoul Central District Court, which oversees the management of Hanjin Shipping, plans to announce a preferred bidder next week and complete the sale before the end of the month.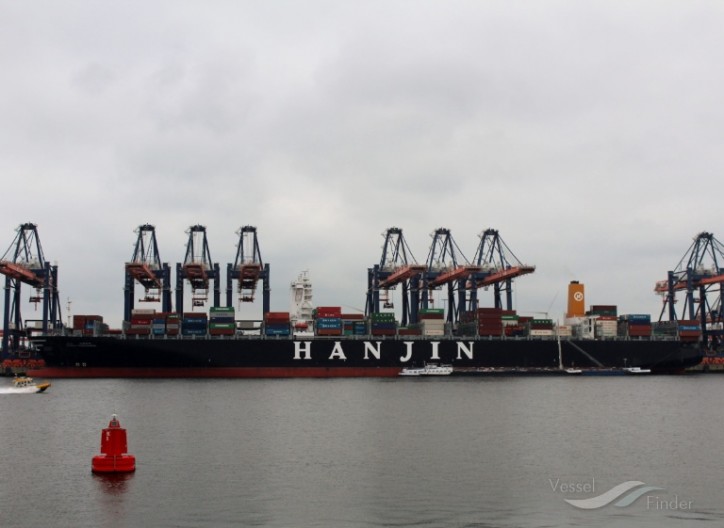 Container ship Hanjin Green Earth - Image courtesy: Krijn Hamelink
According to the sources, in addition to the U.S.-Asia route, Hyundai Merchant and Korea Line might have submitted bids for Hanjin's seven overseas operations, workforce and its stake in the Port of Long Beach, California, which could fetch up to 250 billion won in total.
Hanjin Shipping's Asia-U.S. route logs sales of up to 4 trillion won annually, and its market share stands at 7 percent, the sixth-largest among global shippers.
Hanjin Shipping, currently under court receivership, is seeking to sell its assets in an effort to survive an industry wide slump and cash shortage.
Earlier Hanjin Shipping said it is working to wind down its European operations, raising speculation that the country's No. 1 shipper is preparing for liquidation.
Hanjin Shipping was put under court receivership early last month as its creditors, led by the state-run Korea Development Bank, rejected its last self-rescue package worth 500 billion won, which fell short of the 700 billion won demanded.
Hanjin Shipping badly needs cash to repay debts and meet unpaid service bills. At the end of June, its debt reached 6 trillion won.
Hanjin Shipping and local shippers have been under financial strain due to falling freight rates stemming from an oversupply of ships and a protracted slump in the global economy.
Meanwhile, Hanjin Shipping has sent a dismissal notice to some 600 sea-based workers. They will be dismissed on Dec. 10, according to industry sources. Earlier, cash-strapped Hanjin Shipping said it would trim its workforce ahead of a planned sale of its key assets.
In October, the shipper also announced a decision to cut some 300 land-based employees, but pushed it back in the face of strong opposition from the labor union.
Hanjin Shipping's receivership sent ripples through the global shipping network. Earlier, the government said Hyundai Merchant would consider taking over Hanjin Shipping's healthy assets such as port terminals and global business networks.
Related news: Bidders start due diligence on Hanjin Shipping's Asia-U.S. route
Source: Yonhap