The Iranian oil tanker that the U.S. sought to seize in Gibraltar has changed its heading to southern Turkey, raising concern that its cargo will end up in Syria.
The Iranian-flagged Adrian Darya 1 switched its destination to the Turkish port city of Mersin, located just 150 kilometers from the border with Syria, on Friday evening, according to Bloomberg vessel-tracking data. The ship had previously stated its destination as being Kalamata in Greece, a port that is too small to accommodate a ship of that size.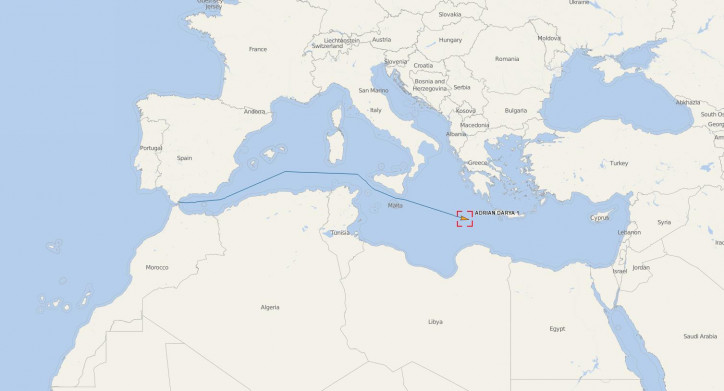 The tanker, which previously flew the flag of Panama and went under the name Grace 1, is estimated to arrive in Mersin at noon on Aug. 31. It was impounded off Gibraltar in July and released last Sunday after local authorities rejected a legal attempt by the U.S. to detain it. Adrian Darya is currently sailing along the southern coast of Sicily.
Last known position of Adrian Darya 1
Iran has given assurances to the government of Gibraltar that the ship will not sail to Syria. The ship's Automatic Identification System shows that the draft of the ship -- how deep it sits in the water -- is 22.1 meters, indicating that Adrian Darya still has its full cargo of 2 million barrels of crude oil on board. The draft is manually entered into the AIS by the ship's captain, so it could be misleading, though there is no evidence that the cargo has been discharged.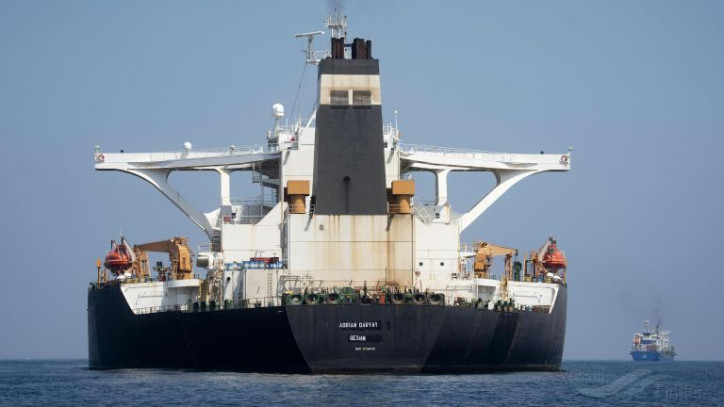 Turkey accepting the ship risks further fueling tensions with the U.S., at a time when relations have been strained over Turkey's decision to buy a missile defense system from Russia.
Turkey's government declined to comment on whether they would allow the ship to dock at Mersin. Officials at the Foreign Ministry in Iran did not immediately respond to calls from Bloomberg to comment on the the tanker's route.
The ship could discharge its cargo onto smaller vessels in a process called a ship-to-ship transfer. The smaller tankers would then deliver the crude oil to its final destination. Adrian Darya could switch off its transponder before starting the ship-to-ship transfer in an attempt to conceal what was happening. However, that might not be enough to hide a ship that is being so closely monitored.
Source: Bloomberg
Related articles: 
August 22: What we know about the ongoing "Tanker War" between Iran, Britain, US
July 5: VLCC Grace 1, oil cargo seized for breaching EU sanctions on Syria: Gibraltar govt