Chinese search and rescue teams worked over the last 24 hours to upturn the capsized Eastern Star ferry.
Vessel's top-deck cabins poked up of the water of the Yangtze river after disaster teams righted the vessel to quicken the search for the more than 330 people, who are still missing.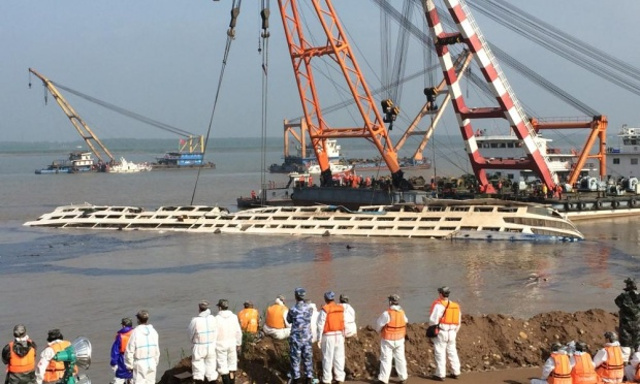 Image: China/Barcroft Media
According to Transport Ministry spokesman Xu Chengguang, the total number of bodies found by the divers up to the moment is 97.
In order to quicken the search, divers and rescue teams worked to right the Eastern Star, attaching iron chains to the vessel. Friday morning local time the boat was righted and the search for survivors continued.
The operation involved as well putting bars underneath the ship, which would then be lifted by two 500-ton cranes. Two huge nets were placed near the cranes and a few metres downstream to catch any bodies.
After the boat upturning, the rescuers next task will be to drain off the water from inside, before salvaging the ship, while also finding and identifying bodies.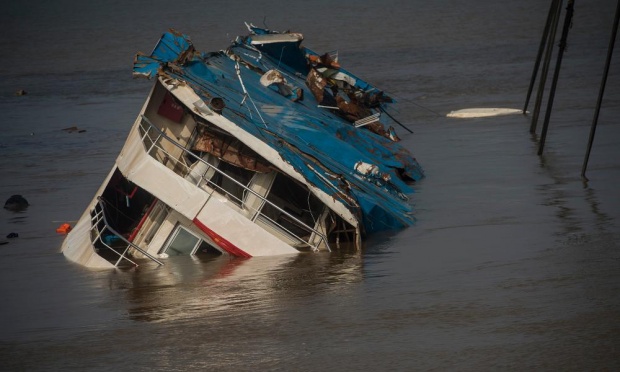 Image: Xinhua /Landov/Barcroft Media
On Thursday rescuers pulled out dozens of bodies, which were taken to Jianli's Rongcheng crematorium, in Hubei province, where relatives tried to identify them.
Both, the ship's captain and chief engineer were among the survivors after the Monday tragedy in Yangtze river. They have been taken into police custody. Relatives demand answers whether the captain should have brought the ship ashore at the first sign of a bad weather. Family members also questioned whether everything possible was done by the crew, to ensure the safety of the passengers during and after the accident.
According to information recorded in a Nanjing's Maritime Safety report, the capsized ship was cited for safety violations during a safety inspection campaign in 2013.
The Yangtze river authority official said on Thursday that the shipowner has been ordered to suspend operations of a second boat and carry out safety probes on its entire fleet.
The Eastern Star ferry is owned by Chongqing Eastern Shipping Corporation.
As stated by Changjiang River Administration official of the Navigational Affairs, the company would need to halt operations of its Eastern Pearl ship, which was built to the same design as the Eastern Star.
The official, who was also part of the emergency response unit, said:
"We've already ordered the Oriental Pearl to come to dock and instructed the crew and passengers to leave the boat."
The other ships in the Chongqing Eastern Shipping Corporation fleet could still operate, but the company would have to send teams of experts aboard to carry out checks.
Related news:
Chinese ferry sinks in Yangtze river with more than 400 missing