Clearly some bridge teams are neglecting to follow ship anti-collision regulations (Colregs), causing damaging and polluting crashes. Two incidents involving tankers in the last seven days have highlighted the dangers of miscommunication between ships and ignorance of the Colregs - the International Regulations for Preventing Collisions at Sea.
On Sunday (7 August) two product tankers collided off the port of Kehin, Japan causing a bunker oil spill and near loss of a ship. Salvage operations were underway to prevent an oil spillage after 5,025 dwt product tanker Eastern Phoenix collided with 1990-built, 465 dwt Keihin Maru 8.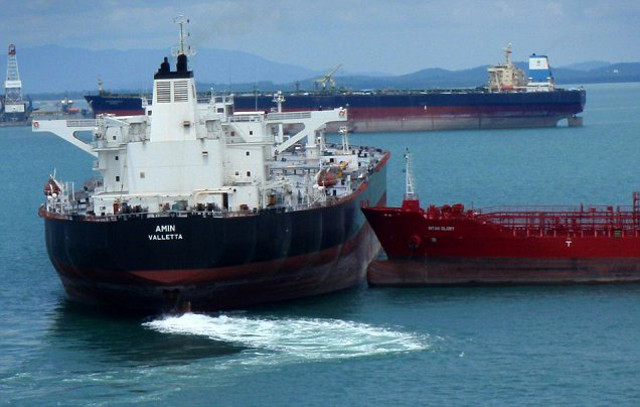 Near miss: The oil tanker (left) manoeuvres clear of danger on the seas off Singapore (Image for representative purposes only) - Photo courtesy: maritimesecurity.asia/Caters
Local media reported there was a breach in the hull of Keihin Maru 8, which caused flooding and its near sinking. There were reports that 300 tonnes of bunkers were on board at the time of the crash. The causes of the collision are unknown at this stage, but they are likely to include either human error in navigation or machinery malfunction on one or both tankers. Confusion and miscommunication between the two ships are also likely to be contributing factors.
Days before, another crash off Singapore caused damage to a container ship and tanker. Very large crude carrier (VLCC) Dream II collided with container ship MSC Alexandra two nautical miles southeast off Sebarok island. Both ships were damaged but there were no reported injuries or pollution. Five empty containers from Mediterranean Shipping Co's 14,000 teu MSC Alexandra fell on to the deck of National Iranian Tanker Co's tanker and another five empty containers fell into the sea.
Reports from Singapore suggested that both ships were proceeding on crossing routes. Dream II was proceeding through a ship separation scheme in a western direction in the strait, while MSC Alexandra was entering into the scheme from Singapore. They crashed causing damage to the bow of Dream II and damage to the container ship's port aft hull. This suggests the VLCC ploughed into the container ship.
Local authorities have begun an investigation into the causes of the accident. Preliminary information suggested the duty officer on the VLCC neglected the ColRegs. There was certainly a lack of communication and misunderstanding between the two bridge teams.
Whatever the conclusion of the accident reports, these crashes should be seen as warnings to bridge teams worldwide to ensure they know and follow the ColRegs and can communicate competently with other ships. The message must get through that the ColRegs are there to keep seafarers safe and prevent collisions. Otherwise there will be more ship crashes, injuries and pollution.
Related news:
VLCC Dream II and Container Ship MSC Alexandra collide in the Singapore Strait (Video)
Two tankers collided off Japan, one partially sank; Oil leak reported
Source: MarinemEC